---
Motorcycle
Kawasaki Heavy Industries began producing its first motorcycle engines in 1953, putting to use the advanced development technology and manufacturing knowhow gained through aircraft engine development, and has since produced many iconic machines such as the H1 (500SS Mach-III), Z1 (900 Super Four), Ninja (GPz900R), and in recent years the supercharged Ninja H2. No matter the time period, Kawasaki has remained on the cutting edge of two-wheeled technology, always anticipating the needs of the market and creating products to meet them. This has built up strong recognition and a positive image for the Kawasaki brand.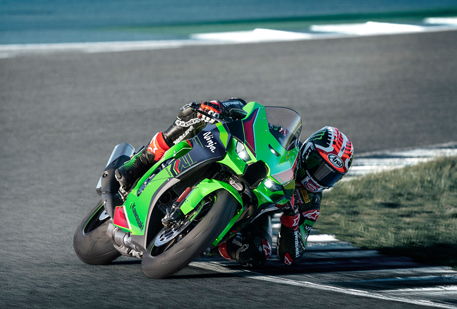 ---
Off-road four wheeler
Kawasaki's wide array of off-road four wheeler see use in everything from practical tasks to leisure activities, playing a major part in enriching people's daily lives. "Brute Force" ATVs (All Terrain Vehicles) that combine the fun of riding off-road with superb utility; "Teryx" RUVs (Recreation Utility Vehicles), whose powerful performance in woods and open areas make them excellent partners for hunting and other outdoor recreational pursuits; and MULE utility vehicles that are often the unsung heroes of farms and worksites everywhere – all are part of an abundant lineup designed to meet a wide variety of needs.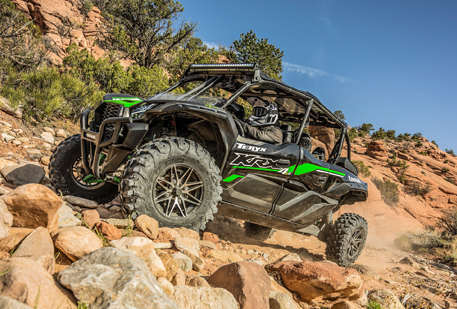 ---
Watercraft
"JET SKI®"
JET SKI watercraft, born from Kawasaki Heavy Industry's cutting edge technology and expertise gained through manufacturing ships and motorcycles, are essentially superbikes on the water. Sleek hulls that cut through the waves, and engines that produce impressive power, combined with nimble maneuverability have led to JET SKI watercraft winning numerous titles in world of racing. As the PWC (Personal Watercraft) pioneer, it is no surprise that Kawasaki boasts a diverse lineup of watercraft, including the flagship ULTRA 310 Series with their incredible power and ample equipment, alongside the entry powerful sports STX 160, and the SX-R stand-up model.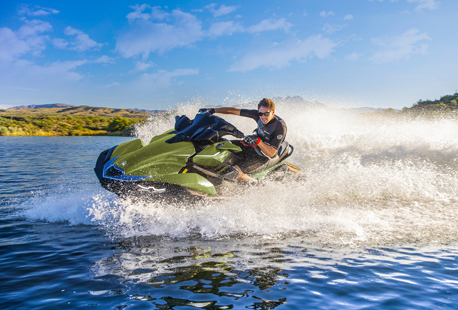 ---