Off-road four wheeler
BRUTE FORCE / KFX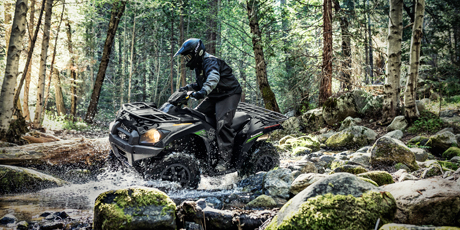 在乌鸦asaki's top-of-the-line Brute Force ATVs feature 749 cm3 V-Twin engines and light, compact chassis. They offer stellar off-road performance and mobility thanks to their 4-wheel-drive (selectable 2WD/4WD) drivetrains and tough suspension, and also have excellent load-carrying capacity. The Brute Force 750 4x4i EPS, the highest-grade model in the series, is equipped with Electric Power Steering, which gives the handlebars a light touch. Despite being an entry-level model, the Brute Force 300 features class-leading equipment, while models like the KFX90/50 offer pure off-road riding enjoyment.
TERYX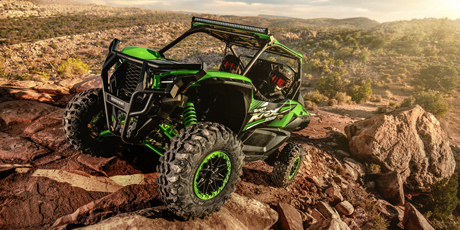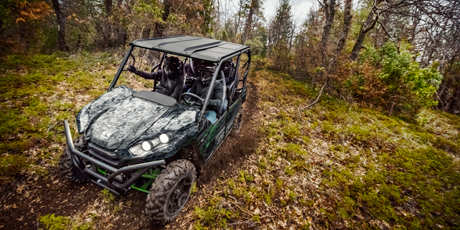 在乌鸦asaki's highly versatile Teryx RUV machines can be used in a variety of settings, ranging from sports to leisure. The powerful and easy-to-use liquid-cooled 4-stroke V-Twin engine is complemented by a CVT transmission and centrifugal clutch, delivering sharp acceleration and excellent controllability. Teryx models stand out because in addition to off-road and sport capability, they offer class-leading comfort and great utility performance. Complementing the 2-seater Teryx Series, Teryx4 Series models offer comfortable seating for four adults in two rows.
骡子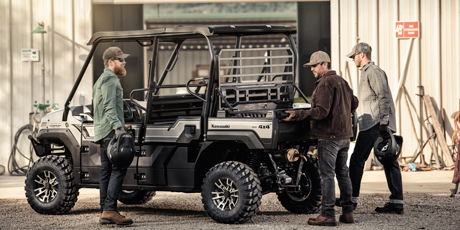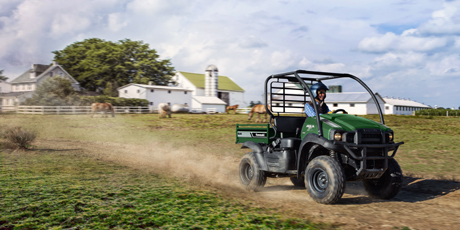 在乌鸦asaki's rugged, hard-working MULE (Multi-Use Light Equipment) utility vehicles back up their serious performance with user friendliness, convenience and great reliability Ideal for both work and leisure use, they are a popular choice for many professionals. In addition to the flagship PRO Series, the MULE lineup also comprises mid-size and compact models. All models deliver abundant low-end grunt – an essential feature on the farms, ranches and worksites where MULEs are often used. And innovative features like Kawasaki's original Trans Cab system (available on certain models) enable highly customizable seating and storage arrangements, further enhancing their great versatility.