Kawasaki is a leading solution provider
for the cogeneration and
decentralized power market.
Kawasaki's gas turbines and gas engines are designed
to provide high efficiency, reliable operation and environmental solution.
About Kawasaki
The history of Kawasaki's gas turbines started with the development of jet engines in 1943. In 1973, we developed Japan's first purely domestic gas turbine utilizing our advanced production technology. As a pioneer in gas turbines and gas engines, we have been meeting the needs of many customers around the world for about 50 years.
Currently, Kawasaki Green Gas Turbine has delivered a total of 12,500 units worldwide, with a market share of over 70% in Japan of 30,000 kW or less. Kawasaki Green Gas Engine, which was developed from a long-established marine reciprocating engine, boasts 51% of the world's highest generation efficiency in the 8MW class, with a share of more than 80% in Japan.
01
Achieve business economic targets with a flexible and optimized operation.
02
Provide stable and efficient energy supply (for the market).
03
Execute planned operation schedule with highly reliable equipment.
01
Reduce and optimize energy utility costs.
02
Secure reliable electricity and set Business Continuity Plan (BCP).
03
Enhance sustainability and environmental performance.
01
Go forward to de-carbonization by reducing CO2emissions.
02
Reduce dumping flaring gas and utilize thermal efficiency.
03
Increase generator capacity but available space and weight is limited.
Why Choose Kawasaki
Reason 01
Breadth of products and proven track record to deliver the right solution
Kawasaki Heavy Industries, Ltd, a comprehensive engineering manufacturer, processes expertise and technical capabilities in manufacturing that it has cultivated in a variety of business fields.
By making full use of our technological capabilities, we develop and manufacture gas turbines and gas engines in-house. Therefore, we have a deep understanding of the functions and performance of our gas turbines and gas engines.
This allows us to propose the best solution for our customers' diverse needs.
Reason 02
Achieve optimal business operations through highly reliable and efficient products
Kawasaki Green Gas Turbine with a total thermal efficiency of over 80% and Kawasaki Green Gas Engine with an electrical efficiency of 51% generate power and heat with less fuel, which achieves energy saving and provide significant cost benefits.
Moreover, in areas where the energy supply is unstable, the stable supply of heat and electricity will contribute to the reliable and sustainable operation of the customer's business.
Reason 03
Contributing to Low Carbon and Decarbonization through Products with High Environmental Performance
Kawasaki Green Gas Turbine equipped with Dry Low Emission (DLE) combustor achieves high environmental performance with NOx emissions of less than 52.5ppm*.
To meet the demand of a carbon-neutral society, Kawasaki has developed a proprietary technology of combustion using only hydrogen or natural gas as well as any mixture of them.
(*O₂=0%)
Reason 01
Reason 02
Reason 03
Cost and CO2reduction
by cogeneration system
A cogeneration system drives a gas turbine or gas engine by using primary energy as fuel and generates continuously multiple types of secondary energy such as electricity and useful heat (e.g., steam, cold and hot water).
Compared to conventional energy systems, a cogeneration system achieves an energy utility cost saving and a reduction of CO2emissions. Kawasaki offers optimal solutions that meet the diverse needs of our customers with a wide range of products from 1,500kW to 30,000kW.
To simulate cost reduction and CO2reduction effect by introducing a cogeneration system.
Case Study
Energy Supply Business
Gas engine
Berkprai
Optimal configuration and operation "Hybrid combined cycle"
Thai power plant operator Berkprai Cogeneration Co., Ltd., who has ordered 3 units of KG-18-V, is an 100 MW power plant that makes use of a gas engine and gas turbine hybrid combined cycle system, which has very few precedents even on a global scale.
The biggest challenge for the plant is to introduce power generation equipment with excellent environmental friendliness as well as being able to generate power efficiently and stably in response to differing daytime and nighttime power demand with flexible and optimized operation.
Each of the gas engines ordered for this project has a generation output of 7,800 kW, and the plant operator will utilize them during daytime peak-demand hours by employing the equipment's world-leading generation efficiency as well as its high flexibility characterized by fast operation startup and shutdown. The electric power generated will be sold to the state-run Electric Generating Authority of Thailand (EGAT).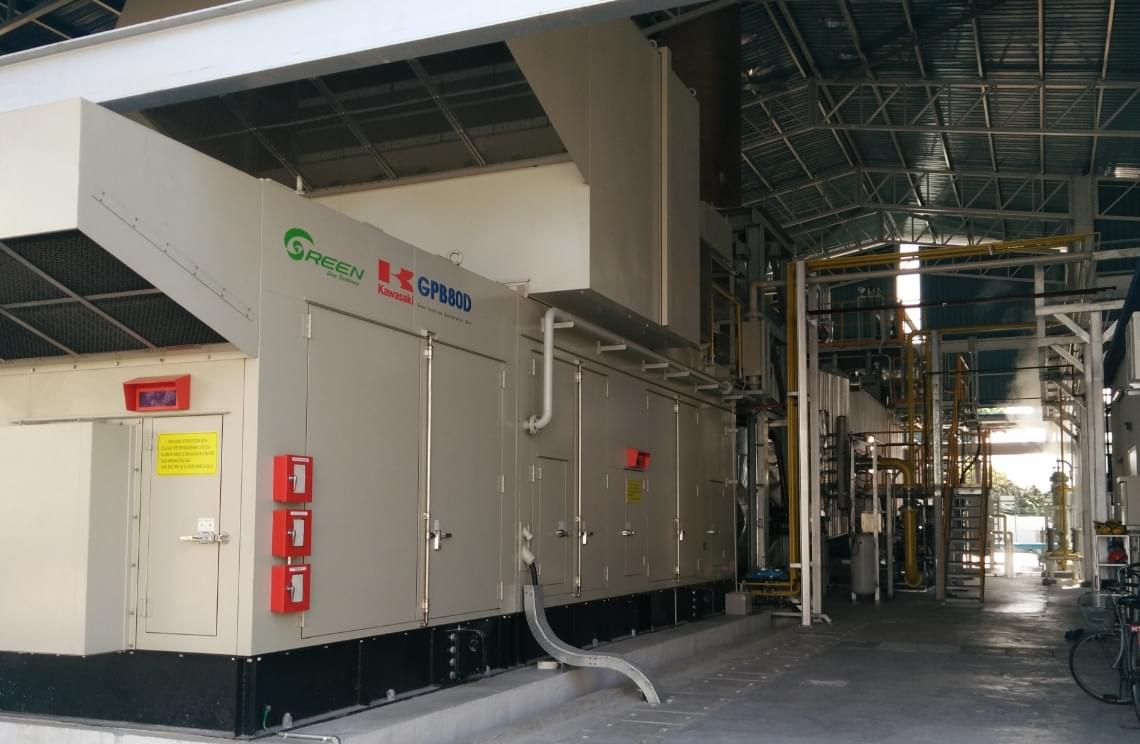 Industrial power generation
Gas turbine
IOI Acidchem
Saved up to RM 8 million annually by Co-generation system and less than 5 years payback
Long before year 2010, IOI Acidchem had been exploring the possibility of applying Cogeneration system at its plant as a way to improve plant's overall efficiency and reduce operation cost simultaneously, besides replacing the aging boiler and other aging infrastructures. The time is finally ripe during year 2014, when gas supply to plant eventually stabilized paired with the introduction of Green Investment Tax Allowance (GITA) by Malaysian Government under provision of Budget 2014, which identifies Green Technology as one of the drivers of nation's future economy.

Knowing that Kawasaki has always been at the forefront in promoting reliable Cogeneration system, more so after the establishment of Kawasaki Gas Turbine Asia (KGA) in year 2005. IOI Acidchem has chosen Kawasaki Gas Turbine Generator GPB80D for its Cogeneration system, marks the first Gas Turbine Cogeneration system operates in Malaysian Oleochemicals industry.

The Cogeneration system in IOI Acidchem runs parallel with the grid equipped with supplementary burner to generate additional steam, hot standby package boiler as back-up. This Cogeneration can achieve up to 93% total efficiency, not only it has helped IOI Acidchem saved up to RM 8 million annually, it has also improved overall plant reliability and has reduced CO2 emission substantially, it has safeguarded the benefit of our environment.

Worthy Investment. Less than 5 years payback!

My. HY Tan
Utilities Manager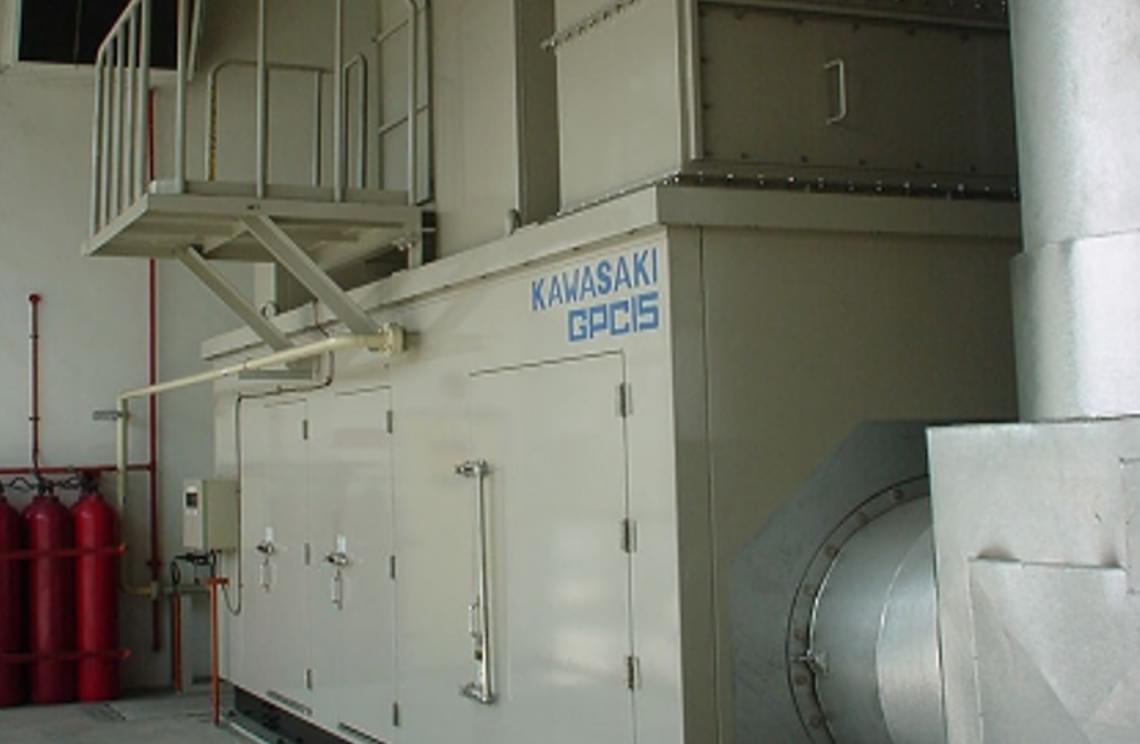 Industrial power generation
Gas turbine
Sime Darby
Two words for Kawasaki - Trust & Reliability!
当涉及到天然气热电联产区冷却system, Tractors Malaysia (Sime Darby Industrial) is one of the early adopters in Malaysia, while many commercial sectors were still relying on conventional air conditioning methods.
With the installation of GPB15 Gas Turbine Cogeneration system at Tractors Engineering Complex (TEC), it provides the convenience to the complex with around 1.3 MW of electricity and also 1,000 USRT chilled water. The chilled water is generated via Kawasaki Steam Fired Absorption chiller, of which the steam is churned out from Heat Recovery Steam Generator (HRSG), which is taking the heat from the exhaust of Gas Turbine. The GPB15 Gas Turbine is able to be started and stopped daily according to the demand of normal working hours of TEC. It has been running for more than 20 years and will still be running and is a testament of very high reliability and long service lifetime of the Kawasaki Gas Turbine, and Absorption Chiller.
Last but not least, this project spearheaded the partnership between KGA and Sime Darby Energy Solutions for Malaysian Cogeneration market. Honest partnership comes with the right affiliate can lead towards an incredible impact on business success. Having been business partners for years, Kawasaki and Sime Darby Energy Solutions have built a lifetime partnership. Along the way, we have created together an excellent relationship service on a foundation based on integrity, transparency, honesty, generosity, intelligence and energy. We believe these traits will lead us to even more cooperation and good work in the years to come as lifetime partners.

Two words for Kawasaki - Trust & Reliability!

Dr. Lim Daw Yuen
General Manager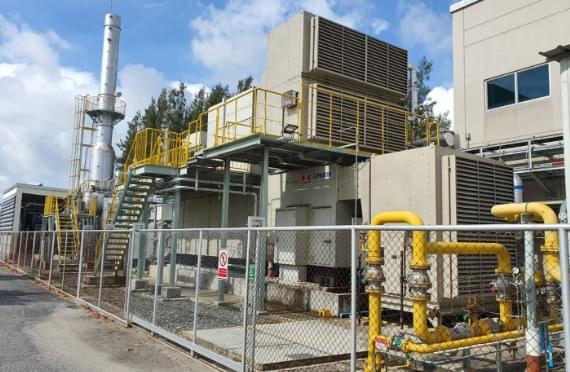 Industrial power generation
Gas turbine
Yokohama
High utilization of Co-generation system
We have achieved high utilization of our co-generation power plant due to KHI's reliable gas turbine. Even in the case of grid trouble, we can continue to supply electricity to client's factory since gas turbine goes into island operation. Also, we have minimized the downtime due to KGA's prompt response to our request in the case of gas turbine troubles.

Takayuki Sawada
Technical Manager, NS-OG Energy Solutions (Thailand) Ltd.

*KHI stands for Kawasaki Heavy Industries
*KGA stands for Kawasaki Gas Turbine Asia (Malaysia)
Energy supply business
CCPP
South Kashima Power Plant
First Kawasaki-developed 100 MW Class Combined Cycle Power Plant
This CCPP employs the L30A model 30 MW class made-in-Japan high-efficiency gas turbine featuring the highest output of all of Kawasaki gas turbines.
The newly completed CCPP is a 107 MW output plant in Kamisu, Ibaraki. Its main equipment comprises three L30A gas turbines, three heat recovery steam generators and one steam turbine, all made by Kawasaki. The plant uses a system whose functions include a cogeneration facility capable of supplying electricity and steam flexibly according to demand from surrounding factories. Kawasaki built the plant based on a full turnkey construction contract that included overall design of the plant as well as supply and installation of all main equipment.
Kashima South Joint Power Corporation is the operator of Kashima South Joint Power Station, the energy center for the Kashima Eastern Industrial Complex, and it supplies electricity and steam to surrounding factories. During performance verification testing, the new CCPP achieved a combined generating efficiency of more than 90 percent.
Efforts toward achieving low- and zero-carbon-emission societies are accelerating on a global scale. As demand grows on the energy market for ever-higher efficiencies, Kawasaki is leveraging the advantages of its CCPPs and diverse range of other energy products to actively develop its energy and environmental business. Through these efforts, the company is contributing toward the building of sustainable societies for the future while also responding to customer needs by providing comprehensive energy solutions that include both generation of electricity and heat.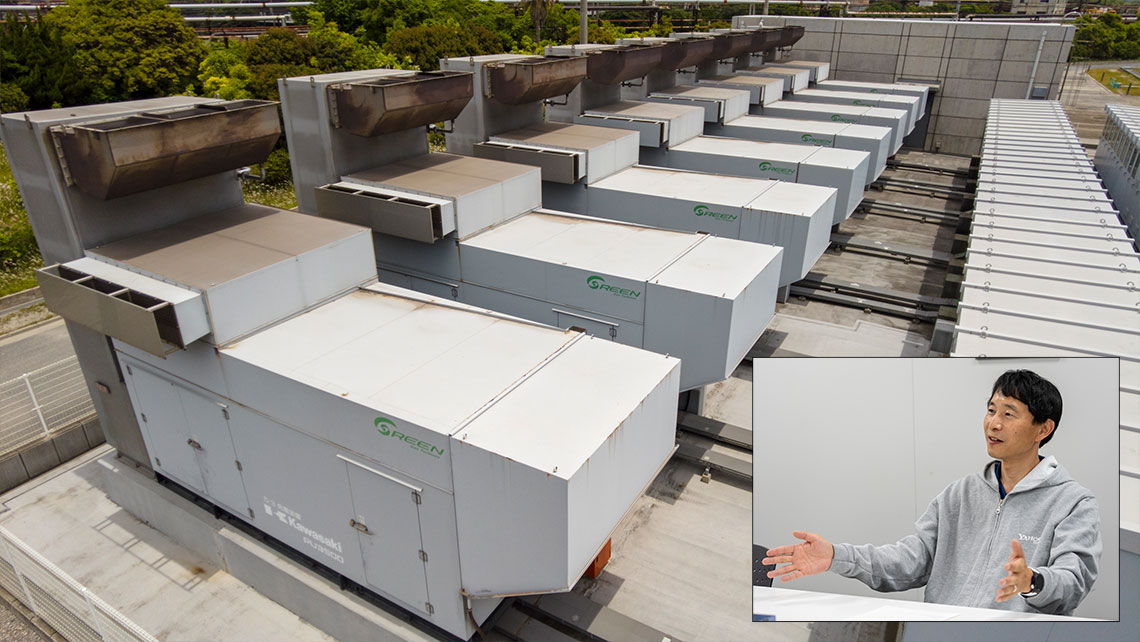 Data center
Standby generator
Gas turbine
Yahoo Japan Corporation
Kawasaki Standby Gas Turbine Protects Large Data Center Supporting Yahoo's Business
雅虎日本的大规模数据中心是一个关键的中心its e-commerce, shopping and advertising businesses covering the western Japan area. The 13 Kawasaki Gas Turbine GPS 3500(2,800 kW) have been protecting this critical infrastructure as standby generators for more than 13 years. As a pioneer in gas turbine standby generators, Kawasaki has delivered more than 8,100 units worldwide since the development of the first unit in 1972, and maintains the No. 1 market share of gas turbine generators for data centers in Japan.
当数据中心第一次设计,马祖先生o compared a gas turbine generator to a reciprocating diesel generator. In the process, it is common for diesel generators to be installed in a dedicated room, but gas turbine generators can be installed outdoors or on a roof because noise reduction measures are more easily achieved without the need for a dedicated room. Since the gas turbine generator is compact and has a large output, the company was able to maximize the space in the data hall because of the smaller footprint of the generators. These advantages of gas turbine generators were highly valued and are a key reason the gas turbine was selected over the diesel generator.
Since the first units were installed in the data center, Yahoo has been enjoying the high reliability of the Kawasaki Gas Turbine, but the Great East Japan Earthquake in 2011 has made Yahoo even more confident in their decision. During the blackout caused by the worst earthquake and tsunami in Japan's history, 99.9% of Kawasaki gas turbines installed in the affected area started successfully, fulfilling its obligation to supply electricity to the important facilities. Mr. Matsuo said, "I don't see any reason to change the Kawasaki gas turbine in future expansion plans."
Finally, Mr. Matsuo commented, "To keep Yahoo running, the data center must operate without power outages. The Kawasaki gas turbine is an essential tool to achieve that mission."
Nobuhito Matsuo
Manager & Kitakyushu Data Center Manager
Data Center Management & IDC Division, Data Center Site Operation, System Management Group
Technology Group
Yahoo Japan Corporation